Mission & History:
VMC is a privately held corporation headquartered just outside Buffalo, New York. (Niagara Falls, NY). The cornerstone of VMC is the use of advanced management science techniques and technological innovations to facilitate efficiencies across private and public sector clients.
VMC Group, Inc. was founded in 1967 as a partnership and then became a New York State Corporation in 1968. During the fifty year period, VMC has had several sub-divisions (lines of business) in order to stress the services or products being marketed at that time. For example, the Value Management Consultants division focused on Human Resources Services; Valueware focused on software development and/or sales; Valdacom focused on data communications devices; and Valtran on Transportation Consulting.
Today's VMC Consultants, Inc.
Applying Advanced Management Techniques in the Public Transportation Sector
In the past fifteen years, VMC has gradually narrowed its focus to the field of Transportation Management (Mobility Management). Within this market, VMC has specialized in managing transportation for local governments for a highly sensitive passenger population – mainly children with special needs.
This special population requires an extraordinary level of accurate service. The exactness of the vehicle routing is necessary to ensure timely pickup, drop-off, and control of skyrocketing costs. To accommodate this level of service and handle parent-guardian concerns VMC is required to apply many of its management science practices, experience, and resources from its other divisions to focus on management of special needs transportation.
With the focus on sensitive populations across five key sectors, VMC addresses Cost Control; Call Center Optimization; Safety; Bid/RFP Spec Formulation; and Software needs.
The VMC Difference: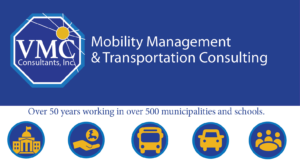 VMC has a success rate that exceeds more than 98% in the implementation of over 1000 projects performed its 50+ year history.  See the VMC Overview Video here.
Practical Experience
VMC has serviced more than 500 public jurisdictions in a broad range of management consulting projects. These include Organizational and Staff Analysis, and Job Classification and Salary Studies. A key component in these studies is the preparation of Job Descriptions for positions in most of the functions in a local government.
VMC has also led extensive Labor Negotiations including representing management in Arbitration and resolving Work Stoppage
VMC's efficiency expertise has also addressed essential workflows such as streamlining office paperwork, and reviewing and recommending computer hardware and software needs,
In the Transportation field, VMC has developed a consolidated system based on its extensive experience managing &Vehicle Routing that has involved a large number of school system buses and utilization of other vehicles. Transportation logistics (vehicle routing) is significantly enhanced by having the knowledge of Operations Research.
Quality Control of service is enhanced through the employment of Statistical Quality Control Management tools. Statistical control charts are utilized to predict and evaluate shifts in service quality.
Academic Credentials
Efficiency Analysis
Employing Operation Research Engineers with the aptitude to apply mathematics in its management models
Organizational Communications
Specifically applying Persuasion Theory to assist in motivating vendors and staff to perform at a high level. This foundation fosters methodologies that improve communications between the customer, its constitutes, vendors, schools, and the full ecosystem.
Group Dynamics also applied as a critical skills necessary in Project Management. This is coupled with the Methods Engineering Techniques in establishing appropriate scheduling of projects (i.e. critical path networks)
Cost Accounting is used to establish cost budgets and measure performance. Technical Writing skills are used in the creation of clearly prepared documents such as Bid specifications, Policies and Procedures.
The combined academic and practical experience has placed VMC firmly in a position to offer extraordinary solutions for some very difficult problems in these unique sectors.